TOOL-KRIB INDUSTRIAL SUPPLY
75 Years Strong as a Leader in Industrial Supplies,
MRO and PPE | Supporting Businesses in New Jersey, New York and Pennsylvania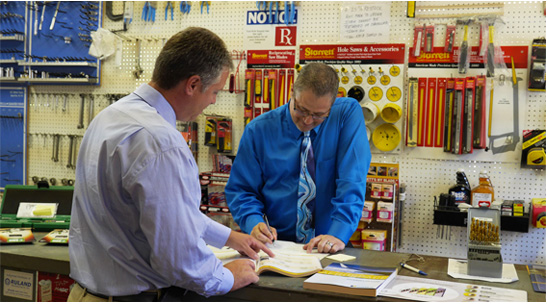 Tool-Krib entered the industrial supply distribution business in 1938 as Van Duren Supply. In 1980 the company was sold and renamed Tool-Krib Supply to better reflect the businesses' focus. Over the years the company has grown to become one of the most respected specialty production tooling distributors for high speed steel and carbide cutting tools, both solid & indexable, CNC toolholding and fixturing, abrasives, inspection and sandblasting equipment.

As a member of the Madsen Group, Tool-Krib is one of five Madsen companies that has been proudly and successfully serving industry since 1909. Tool-Krib joins other esteemed Madsen Group companies that include Abrasive Machine and Supply, Essex Caster and Rubber, Door and Hardware Supply, and Madsen & Howell. Also a full line MRO distributor, Tool-Krib represents a huge product line of adhesives, coolants, hand tools, material handling equipment, lubricants, rubber, safety products, power tools, fasteners, sorbents & janitorial supplies.


Our expert staff serves a diverse consumer base in primarily in New Jersey, New York and Pennsylvania and is trained to explore each customer's unique industrial challenges and offer creative solutions to ensure that your capital budget dollars are wisely allocated. We are your best resource for thousands of industrial supply products by the top manufacturers and brand names. We offer unmatched service, product availability and delivery timeframes. And once we earn your business, we will make sure that you continue to get what you need, when you need it.

Contact us today to find out how we can improve your bottom line by saving you time and providing cost-savings solutions. Our expert team of specialists will work closely with you to better understand your individual needs and develop a custom solution - on time and within budget!