What is a Mag Drill?
A magnetic drill, mag drill for short, is a drill used to cut metal. Magnetic drills are made up from 4 key components: a magnetic base, a drill stand, a motor, and an arbor or chuck. You can use a wide variety of tooling with mag drills including annular cutters, twist drills, taps, reamers, and counter sinks.
The convenience of a magnetic drill can't be overstated.
Like the benchtop drill press or standing drill press, you need a magnetic drill press in hard to access locations, like I-beams, truck beds, vertical metal parts that are stationary and so forth. The magnetic base adheres to the metal surface and stabilizes the drill in order to cut the material. You won't be able to achieve the same results with a non-magnetic drill press – don't even try.
Why use a Magnetic Drill Press?
By using a magnetic drill, you'll gain the precision and speed for drilling in tough materials when you need to drill with accuracy and consistency. Magnetic drills have strong electromagnetic base enabling it to adhere to a carbon steel (ferrous metal) surface while turned on. Magnetic drills can be positioned to drill horizontally, vertically or overhead which is especially useful in construction. Be sure to secure your mag drill to the surface being drilled into, especially when overhead, to avoid drops from heights or onto your head.
The Origins of the Magnetic Drill Press
"Magnetic drills were initially designed for construction companies to drill a large quantity of holes in structural steel already in place, such as i-beams. They offer increased stability and are easier to use than a hand held drill and also provide better accuracy and cut large diameter holes faster. A secondary benefit to mag drills is they can drill and tap (thread) holes up to 1-5/8″ (40mm). For example a common application is to drill a 9/16" (14mm) diameter hole to tap a 5/8″ (16mm) thread without moving the machine."
Types of Magnetic Drill Presses:
Electric magnetic drill presses which are best in most job site situations where electricity is readily available and the work environment is relatively dry.
Pneumatic magnetic drill presses where a compressor can be accessed and the job site may be wet or in a hazardous environment.
Hydraulic magnetic drill presses which are mainly used for for industrial, construction, and marine drilling applications.
How to use a Magnetic Drill Press
The material base to be used must be ferrous metal for the electromagnet to work
The steel has to be flat and reasonably clean or the magnet won't hold onto the surface.
Make sure the bottom of the drill is also free from debris.
Use a SAFETY chain to secure the drill press because once the power goes out, the tool will let loose of the steel and drop if overhead.
Cutting Tools for Magnetic Drills:
Most often you'll use an annular cutter when drilling through steel. An annular cutter is an end mill with a hollow center that cuts holes in the metal. For annular cutters to work best, the steel generally needs to be at least 1/4″ thick for the magnetic drill press to stick to the surface – 1/2″ steel better.
Core Cutting with a Magnetic Drill Press
When cutting or drilling holes in steel, the magnetic drill press is indespensible. You can line up your drill and secure it in place which will take the wear and tear off your body while drilling. If you have the budget, get a mag drill with a swivel base. This makes lining up the drill over the hole easier.
Walter Surface Technologies annular core cutters are guaranteed to outperform all uncoated cutters. Walter annular core cutters are made from specially formulated high speed steel (HSS) and exclusive state-of-the art coating, keeping them cooler and increasing the product lifespan! Walter's exclusive tooth design will resist breakage and Walter's ICECUT line of annular cutters is designed to outperform where lubricants are not permitted.
ICECUT™ ANNULAR CORE CUTTERS with Weldon Shank
Walter ICECUT annular cutters are coated with an exclusive mixture of chromium and aluminum (AICrN). These annular cutters are designed to be used where lubricants are not permitted or problematic to apply. This AICrN technology outperforms Titanium (TiN) or Titanium-Aluminum (TiAIN) coating cutters. By incorporating the chromium aluminum blend into the coating, Walter ICECUT annular cutters can withstand at least 200 degrees Celsius higher temperatures and produce less heat than a conventional TiAIN cutters. The ICECUT AICrN coating is resistant to higher stress under load and instant impact.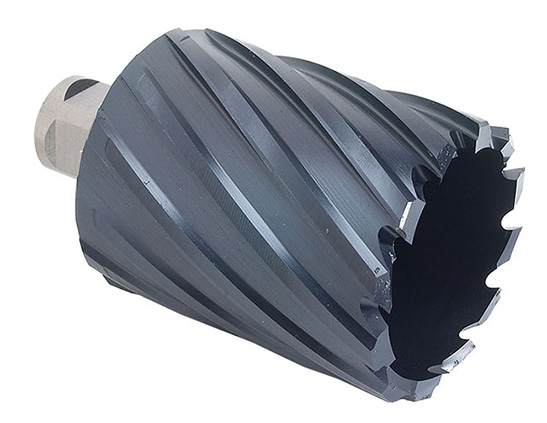 Walter ICECUT™ Annular Core Cutter Features:
Fully ground extra large flutes
Modern tooth design and cutter geometry
New high technology coating
Universal shank
Can cut: Aluminum, Stainless steel, Steel, Structural Steel
Drilling 1/2″ to 2 3/8″ diameter holes with magnetic drill presses or stationary drill presses
Large diameter bits; low speed, high feed
Small diameter bits; high speed, low feed
Walter CARBIDE CORE CUT ANNULAR CUTTERS with Weldon Shank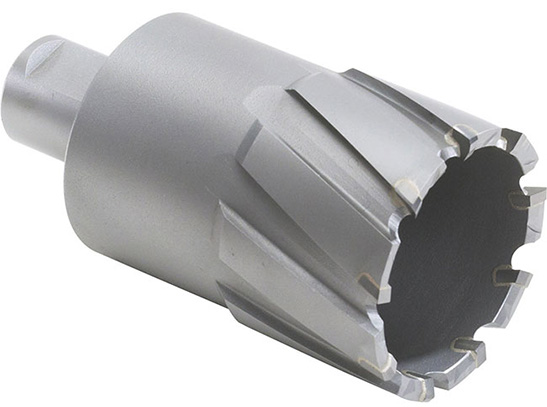 Walter Carbide Core Cut annular cutters accurately drill large diameter holes in a variety of hard or abrasive materials such as stainless steel, cast iron, tough alloys or composite materials. They outperform and outlast conventional HSS cutters and allow for higher speed and feed rates while requiring less effort to cut through some of the industry's toughest metals.
By combining Walter annular cutters with a magnetic drill, you'll have a powerful metal cutting machine.
Walter Cutting Tools are some of the best cutting tools to use with your mag drill. If you need direction choosing the right cutting tool for your next project, please give us a call.
Tool-Krib Supply Company is a Walter Tool Distributor and serves customers in the Tri-State Area of New Jersey, New York and Pennsylvania. We also serve manufacturers across the United States. We ship tools, equipment and supplies to international customers in China, Germany, Italy, Australia, Mexico and Ireland.
Tool-Krib Supply Company not only provides all the tools you'll need for your magnetic drilling projects, we also sell Milling Machines & accessories, Sandblasting & Blast Cabinet Equipment to manufacturers like you, we also offer a full suite of premier industrial service solutions including Point-Of-Use Dispensing Systems, Tool Vending Solutions, Vendor Managed Inventory, Tool Repair & Reconditioning, Gage Repair & Calibration, Custom Tool Manufacturing & an expansive catalog of tools & supplies for every type of manufacturing.
We've can direct you to the right cutting tool for the job. Our sales team is available Monday – Friday from 8:30AM-6PM and can be reached at 973-808-4550 or click here to email our sales team for a quote.
Learn more about our other products and services on our blog:
Essential Tools for Machinists
Sandblasting Cabinets & Blast Media
Best Cutting Tools for Titanium
Vendor Managed Inventory Companies
References: