Sandblasting | Abrasive Blasting | Media Blasting
It's not your grandpop's workshop anymore. Sandblasting or abrasive grit blasting is a surface treatment process used in a variety of industrial applications where the surface material, such as paint, rust, or corrosion needs to be removed in order to make the surface like new.
Blasting media has evolved to include exotic materials other than sand. Materials like glass beads, walnut shells, or corn cob grit, and a mix of proprietary materials (like Trinco's Rad-Mix) are used depending upon the softness or sensitivity of the base material.
Sandblasting in a Nutshell
By forcing an abrasive media through a nozzle via compressed air, an abrasive impacts the surface and removes unwanted material in less time and greater accuracy than can be achieved using sand paper or a hand held abrasive product. Sand blasting generally works faster at cleaning a surface than hand sanding because the compressed air has more impact (no pun intended) than hand sanding. The upside to using a sandblaster is speed and accuracy. However, not everything can fit in a blasting cabinet.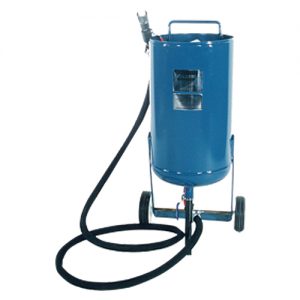 For large items, there are mobile sand blasters available that let you move around freely when parts are too big for a sandblasting cabinets. Large parts like car fenders, truck doors, motorcycle frames or farm equipment are often too large to fit in a sandblasting cabinet. When you want to bring something old and corroded back to life, hand held blaster guns like the Speed Blaster, a blasting gun with an abrasive reservoir, is an excellent option when mobility to work on a large surface area is required. Blasting guns have fully adjustable controls to adjust the amount of abrasive material hitting the surface. Learn more & get specs.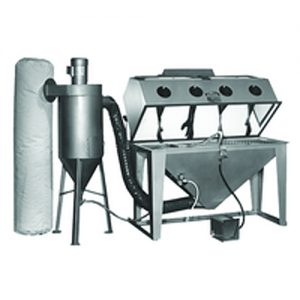 The equipment used to perform the sand blasting process varies greatly. If you have a large facility and process a lot of painted, rusted and corroded parts, you may want to purchase an industrial media blaster like the Trinco Blast Cabinet with Abrasive Separators.
This Trinco sandblast cabinet is designed to keep the blast media free of contaminants that are removed from the parts. During blasting, the blast media is suctioned into the abrasive separator where the dust and contaminants are removed and exhausted into a filter bag. The media is automatically cleaned and recycled into the blast cabinet for reuse. This "sand" blasting process is efficient and provides consistent results with less work for you.
This Trinco blasting cabinet system is ideal for painted, rusted, and corroded parts that requires a medium to heavy amount of blasting to get your parts clean. The preferred blast media for this machine is glass beads or aluminum oxide. Get specs and learn more about this Trinco blast cabinet here.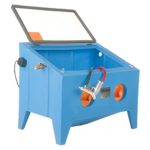 Not all jobs require large, industrial blast cabinets. If your facility cleans & preps smaller parts, you may only need a benchtop blast cabinet to get the job done. Small blast cabinets like the Cyclone Model E500 are a great choice. They take up less space in your shop and is perfect for small items. While they aren't considered "micro blast cabinets", they are suitable for small jobs. This Cyclone work station blast cabinet is 28″W x 20″D x 16″H with a window opening of 14″ x 24″ and operates at 14 cfm / 100 psi. Learn more here.
Abrasives for Blasting
Depending upon the item you need to sandblast, you'll need to get the right media or abrasive. There's more to sand blasting than just using sand. Choosing the right blasting media is an essential element in getting your parts cleaned and prepped. Media blasting materials remove rust, gunk, dirt, decay, oil build up, and pretty much anything that is affecting the surface of the item at hand.
Abrasive blast cleaning is a vital process used not only to remove rust and corrosion, but to prepare surfaces for high performance coatings. Blasting is used to treat products in the final stage of production to give them the luster and surface texture desired by the retail consumer.
Different media types have different affects on the surface of the products.
Hardness, shape, and density, and along with the rate of speed the abrasive is ejected from the nozzle will impact the surface. Before you finalize your abrasive, it's essential to test a variety of media to see how they impact your part. If you aren't sure which material is best for your particular item, call us so we can discuss your specific application and recommend the right blasting media for your job.
As a general rule, there are four things to consider when choosing the right blast media:
Size – the larger the particle, the bigger indention it will make in the surface. Large particles also give you less impact than smaller particles because there is less surface area making contact with the item. A finer blast media will be more impactful and create less surface damage.
Shape – angular particles cut through the surface corrosion, paint or unwanted adherents faster. Rounded particles are less likely to pit a surface and create a more evenly cleaned surface.
Hardness or softness – soft blast media is good for removing grease and grime, while harder particles can handle paint, rust and remove corrosion at a deeper profile.
Density – dense particles impact the surface with more kinetic energy and result in a deeper profile.
The best blast media for removing rust is generally one with large, angular particles – such as Silicon Carbide, Glass Bead or Aluminum Oxide. If you want to remove paint from a surface, walnut shell is a great blast media because it can be used on fiberglass, sheet metal or other surfaces without adverse affects to the base material. Soda blasting is excellent for aluminum, steel, fiberglass and plastic because it removes particles from the surface but doesn't pit or damage the underlying material. Soda blasting is also safe to use around other items not being treated. Soda blasting is also an excellent degreaser and can be used under the hood without having to take the part out of the car. It's a safe material that can be washed away with water without adverse effects on the engine.
You can buy a variety of blasting media from Tool-Krib Supply Company directly. We offer the following products online for your hand held sandblaster, bead blaster or sandblasting cabinet.
As a distributor of sandblasting equipment and supplies, our extensive distributor relationships and industry knowledge can guide you in the right direction. Whether you are a small shop or large sandblasting facility, contact us for pricing and information. If you need garnet, coal slag, mineral sands, crushed glass or soda blasting equipment & abrasives to clean paint from sensitive surfaces, we have you covered.
Tool-Krib Supply Company sells all the sandblasting supplies you need, such as: sandblasting gloves, filters, carbide nozzles, sandblasting guns, vacuum hoses, acetate blast cabinet windows, safety glass, filter cones, filter bags, air jet assemblies, anti-static wrist bands and more…
Whether you need an industrial sandblaster, a small sandblaster, a bench top blast cabinet, a large cabinet sandblaster, a portable sandblaster, or a sandblasting gun, we can help you decide which sandblasting equipment and abrasives will work best for your manufacturing needs and get you the product you need fast.
Tool-Krib Supply Company is also a distributor of Empire Abrasive Equipment in New Jersey, New York and Pennsylvania. Call us for info on their products at 973-808-4550.
About Us:
Tool-Krib Supply Company serves customers in the Tri-State Area of New Jersey, New York and Pennsylvania. We also serve manufacturers across the United States including Florida and West Virginia. We ship tools, equipment and supplies to international customers in China, Germany, Italy, Australia, Mexico and Ireland.
Tool-Krib Supply Company not only provides Sandblasting & Blast Cabinet Equipment to manufacturers like you, we also offer a full suite of premier industrial service solutions including Point-Of-Use Dispensing Systems, Tool Vending Solutions, Vendor Managed Inventory, Tool Repair & Reconditioning, Gage Repair & Calibration, Custom Tool Manufacturing & an expansive catalog of tools & supplies for every type of manufacturing.
With over 26 years in the business, we can help you choose which abrasive blast cabinets, blast cabinet parts, sandblasting abrasives you need to get the job done.
Our sales team is available Monday – Friday from 8:30AM-6PM and can be reached at 973-808-4550 or click here to email our sales team for a quote. Let Tool-Krib supply you with the sandblaster & blasting equipment you need to get the your sandblasting job done right.
Learn more about our other products and services on our blog:
Best Cutting Tools for Titanium
Vendor Managed Inventory Companies
References: 
Blast Journal